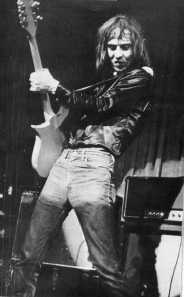 fred "sonic" smith
[text by C. Ross; photo by Robert Mathau]

As guitar heroes go, Fred "Sonic" Smith was one of the best, his musical legacy firmly established by his time spent as one half of the dual guitar arsenal that fueled the legendary MC5, and later fronting his own Sonic's Rendezvous Band and collaborating with his wife, Patti Smith.

In the late '60s and early '70s, the Motor City Five (later shortened to MC5) defined the Detroit rock sound. Under the guidance of radical writer John Sinclair, the 5 were dangerous, using guitars as their weapons of choice in the fight to change the world. The MC5 -- Smith, Rob Tyner on vocals, bassist Michael Davis, drummer Dennis Thompson, and Wayne Kramer, the other half of the band's guitar tag team -- created rock and roll that was a confrontational assault on the status quo.
The Motor City Five ... was a supremely tight and hard-hitting example of ... Detroit sensibility...Poet and activist John Sinclair, who wrote about the free jazz of John Coltrane, Sun Ra, Ornette Colemen, and their cohorts for Downbeat, encouraged the 5's jazz listening and became their manager. He also enlisted their services for the revolution; his White Panther party was a Yippie-like association of radicals and artists whose program called for "revolution, dope, and fucking in the streets."
[Robert Palmer, Rock & Roll, An Unruly History, Harmony Books, 1995]
The MC5 was born in the early 60s in the blue-collar Detroit suburb, Lincoln Park. "I'd just moved into the neighborhood...," Wayne Kramer remembers, "...and everyone was telling me about this juvenile delinquent who played bongos, even a little guitar. The 'delinquent' turned out to be Fred Smith. ...Fred was a lot louder than I was. He'd get into a lot more trouble....Fred always thought of himself as the 'master criminal.'" [Wayne Kramer, Addicted to Noise, Issue 1.02, February 1995]. Smith also made an impression on fellow Lincoln High School student Dennis Thompson, who has noted that " Fred struck me as the ultimate rebel ...
Fred Smith and I started playing guitars together, must have been in the tenth grade -- in '64 we played in a lot of rival bands. Then we ended up in the same band together and we met Rob Tyner and Dennis Thompson and Michael Davis and we all moved away from home together. We were all getting to be 16, 17. We moved to the beatnik neighborhood...That's were we met John Sinclair -- the archetypal beatnik poet. ... John was a little older, a little better educated than we were, and seemed to be able to relate to everybody. We decided he should manage the MC5....
[Wayne Kramer, Interview with Nina Antonia, Record Collector, September, 1996]
The 5 took the influences of British bands like the Who and Yardbirds, and mixed them up with equal parts Motown, Chuck Berry, reactionary politics and contemporary jazz, to form an incendiary blend of maximum volume, feedback and distortion that the band named "high energy rock."
The Velvets flirted with the effects of distortion and feedback, but the MC5 based their entire sound on them. They had consciously assimilated the precepts of free-jazz pioneers like Albert Ayler and John Coltrane and now sought to place their innovations in a "rock" setting....
[Clinton Heylin, From the Velvets to the Voidoids, Penguin Books, 1993]

The first night we did "Black to Comm," [the 5's most famous free-form improvisational number, named for the connection on their amps] we wrote it down in Kramer's basement, and Fred Smith discovered that you could turn up the Super-Beatle amp until it became unbearable, right, and started playing the opening chords to "Comm" spontaneously and smashed a jar!
[Rob Tyner, interview with John Sinclair, The Ann Arbor Sun, May, 1967]

In time "Black to Comm" became a monumental closing peak, powered by Tyner's wordless gospel exhortations, the Thompson-Davis rhythmic blunderbuss and the Kramer-Smith team's increasingly sophisticated guitar tag.
["Edge of the Switchblade, To Hell, and Back, with the MC5," Ralph Heibutski, DISCoveries, 12/95]
When the band began, the arrangement between the two guitar players was fairly traditional:
When we started out me and Fred used to say I was the lead player, and I played all the solos. And Fred Smith was a genius rhythm guitar player...But after a while, Fred's technique developed so well that we didn't draw the distinction anymore. He was a one-of-a-kind original. Later, the more we started writing, and when he started writing his own songs and guitar breaks, he had his own whole musical vocabulary.
[Wayne Kramer, interview in Addicted to Noise, Issue 1.02]
It was with the 5 that Smith acquired his nickname. Smith chose the appellation after seeing it on a guitar. As Kramer remembered, "He returned the guitar but kept the name because he liked the way it sounded on him." [Addicted to Noise, Issue 1.02]

On stage at the Grande Ballroom, where they served as the house band, the 5 combined musical flash with visual flamboyance. Showmanship was as essential an ingredient as the music. Dressed in satin pants and sequined jackets, Smith and Kramer, flanking Tyner, would twirl, machine gun their guitars, and drop to their knees. Fred in his bent-shouldered stance would blast riffs on his trademark Mosrite guitar, the force barely channeled through Marshall amps, ending songs with his fist raised high above his head.
Wayne did a lot of dancing and gyrating...Rob would do the pony...Wayne and Fred got into choreography, back-bends. ....Fred did a lot of dramatic, bravado moves. He'd bend his knees and lean back...
[Michael Davis, Freakout USA , Vol.1, No.1, 1993]

I'll never forget the first time I saw the MC5 perform... in 1968 at the Grande Ballroom...As Tyner squirmed and sang, behind him were two sparkle-sequined guitarists who traded-off lead in a fervid fusillade of fiery notes and converged the role of rhythm into flesh-tingling licks of backup vibration: Wayne Kramer on Fender guitar and Fred Smith on Mosrite guitar was how the band described the arrangement.
[Ken Kelley, Addicted to Noise, Issue 1.02]
As noted by Malcolm Russell in The Rough Guide to Rock (Penguin Books, 1996):
At first, their antics made the MC5 simply too hot to handle, but in late 1968 they signed to Elektra.. The result was the incredible live album, Kick Out The Jams , which captured the band at their most powerful and confrontational. Recorded on their home turf, the album kicked off with a radical rap from Brother J. C. Crawford and then exploded into some of the most demented high-octane rock'n'roll ever made. Also included was an example of the band's wrecking crew approach to rock/free-jazz fusion, a razed, white noise version of Sun Ra's Starship.
The band went on to record two more albums, the more commercial Back In The USA , which included the Smith-penned classic "Shakin' Street" and High Times, an attempt to return to their earlier style, but again with only limited success.

High Times was notable not just for the music, but because for the first time the 5 produced the record themselves, and assigned each song individual, rather than group, songwriting credits. It also marked Fred Smith's maturity as a songwriter: Smith gets credit for four of the records eight tracks. Dennis Thompson, whose contribution was the song "Gotta Keep Movin" has explained that he wrote the song with Fred "to show off Fred's abilities to play thirty-second notes. He perfected that stuff, and we didn't have a vehicle for him to play that way." Thompson also salutes Smith's handiwork on "Skunk (Sonically Speaking)", which set a trio of free-form horns against a hammering,effective guitar riff. The song still excites Thompson "because of all the players involved, the big band feel - and Fred came up with an excellent production."
[DISCoveries, 12/95]

The 5 were on the front lines of the 60s youth rebellion and often paid dearly for those beliefs. That defiance made the band a target for the police in both Detroit and Ann Arbor:
Poet-MC5 manager John Sinclair and MC5 guitarist Fred Smith were brutally assaulted, beaten, MACEd and arrested by members of the National Security Police, the Oakland County Sheriff's Department, and the Michigan State Police while performing at a teen-club in Oakland last Tuesday, July 23rd.
[John Sinclair, Guitar Army, Street Writings/Prison Writings , Douglas Book Corp.,1972]
That defiance also earned the band FBI surveillance (they were cited at a Senate hearing by Spiro Agnew as being part of a communist conspiracy to corrupt the youth of America), and cost them two recording contracts.
They [the record industry] despised us because of an anarchistic behavior and militant political stance. We came out of Detroit with our big Marshall amplifiers and spangly clothes, and we leaped around like some unholy version of James Brown on acid, playing free jazz and screaming "Kick Out the Jams, Motherfuckers" at a time when they were just learning to market three days of peace and love...The last thing anybody wanted was a gun-toting, high volume rock band from Detroit.
[Wayne Kramer, interview with Nina Antonia, Record Collector, September, 1996]
Eventually the band crumbled under the weight of their heartfelt, if naive, revolutionary ambitions (as well as drug and personal problems). Putting it into perspective, Fred later explained:
The extent of our relation to politics was the high-energy intensity of it.. And when we were 18 or 19, we wanted to take over the world. We wanted the world to be the way we saw it. We didn't relate to convention.
[Fred "Sonic" Smith, Bomp! , November, 1977]
When the 5 splintered, Smith picked up the pieces -- first with Ascension, which included fellow MC5 members Dennis Thompson and Michael Davis; then, beginning in 1974, putting in time as guitarist for the Scott Morgan Group (Morgan was the former frontman for the Detroit R & B-influenced Rationals). By 1976, the Smith/Morgan combination had evolved into Sonic's Rendezvous Band, with the addition of Gary Rasmussen, of the Sinclair-managed Up on bass and Scott Asheton of the Stooges on drums. The brief reign of this Detroit supergroup included only one recording session and only one "official" release, the double-sided single "City Slang."

Much like the MC5, the band's vocals were mixed below the dual guitars and feedback, with Smith's solos propelling the sound. The band focused on guitar dazzle that was decidedly out of place amidst the prevailing punk ethic of minimalism. As a review in Bomp! reported in 1977, "[Smith] may be the last of the guitar ...barons for whom proponents of the new wave will rally to support. ..Sonic's gut-tearing [guitar] interludes are a refreshing alternative. He emerged recently from an Ann Arbor stage with bloodied fingers."

The band opened for Patti Smith on a Detroit date in 1976, where the soon-to-be couple was introduced by Lenny Kaye.
It was March 9, 1976, and we met in front of the radiator at that hot dog place, Lafayette Coney Island, in Detroit. The Sonic Rendezvous Band was opening for us, but I didn't know anything about him. Lenny introduced me to this guy. I heard that his name was Smith, and my name is Smith. We just looked at each other and I was completely taken by him. I had no idea who he was or anything about him until afterwards when Lenny told me. Lenny introduced him and said "He's one of the great guitar players." I said, "Perhaps you'll want to play with us tonight." And he said, "Maybe so." Then he left and I asked Lenny if he was really good, and Lenny said, "the best." So I was playing with him that night, and I had a lot of bravado in those days. I didn't have respect for anybody. But I totally submitted to his reign. He came on the stage and started playing, and after a while I just set my guitar down and let it feed back. I just let him take over because I felt I had met my match, that I had met the better man.
[Patti Smith, interview in Mojo, August 1996]
Fred backed Iggy Pop on his abbreviated 1978 summer European tour, with Sonic's Rendezvous Band serving as Pop's opening act. And by 1978, Fred and Patti had become a couple. Both "Dancing Barefoot" and "Frederick" on Patti's 1979 album Wavewere inspired by Sonic. The couple in married in 1980, and choose to direct their creative talents into raising a family. They settled in the suburbs outside the Motor City, leading private lives that included only a few public appearances. Clinton Heylin's From the Velvets to the Voidoids contains this Lenny Kaye description of one of the couple's rare performances at a June 1980 benefit for Detroit's symphony orchestra at the Masonic Temple in Detroit:
The first part was Patti reading poems from her book....Fred "Sonic" [Smith] and Patti came out and they lowered a screen, and on the screen they showed a film of a Jackson Pollock painting. they turned a guitar on to feedback, leaned it up against the amp, and they played -- Fred on saxophone and Patti on clarinet ... it was real, actual improvisatory jamming, and as the soundtrack to this Jackson Pollock film was very, very heavy...
The couple also performed at an AIDS benefit held in 1991 at Ann Arbor's Nectarine Ballroom where they were joined by Lenny Kaye, Jay Dee Daughtery, Scott Morgan, Gray Rasmussen, and Scott Asheton. And in 1992, Sonic participated in a reunion of remaining MC5 members at a memorial for Rob Tyner's family (Rather eerily, Tyner died of a heart attack in November 1991; three years to the month before the same fate claimed Smith).

In 1988, Fred and Patti released Dream of Life, a collaborative effort despite being marketed only under Patti's name. "... I look at Dream of Life as [Fred's] gift to me... I told him we should call it by both of our names but he wouldn't," Patti related in Mojo [August, 1996] And in another interview she noted:
Fred crafted that whole album. He wrote all the music. A lot of the concept of the songs were his. ....I think he did a beautiful job but it was just perhaps a time when people weren't that interested .....I still think Dream of Life will find its time and people will see the compassion and breadth of Fred as a man and musician through that album...
[Patti Smith, interview in Addicted To Noise, Issue 2.06, June, 1996]
The pair also contributed a song, the ethereal "It Takes Time", to the soundtrack for Wim Wender's 1990 film Until The End Of The World.

Fred died on November 5, 1994.

In honor of her husband, Patti erected a memorial at the Old Mariner's Church in Detroit, where the couple was married. There are actually 2 monuments on the church. One is on the church belltower facing Detroit proper; the other is just over the rear doors on the river side. See photo A and photo B of the church, and photo of monument over the rear doors (all three courtesy of Evan Feibusch).

Fred and Patti were working on new material and planning a return to recording at the time of his death. Fred had also been teaching Patti to play guitar. Her newest album Gone Again , was named by Fred and contains two songs co-written by the couple, as well as several meditations by Patti on the loss of her husband.
"The way Fred was, was why the MC5 turned out to be such an enormous enigma; it made people look at themselves," said Michael Davis at he time of Fred's death. "He made us all reach deeper and give our best."
["Edge of the Switchblade, To Hell, and Back, with the MC5," Ralph Heibutski, DISCoveries, 12/95]
Some links:
11/99 -- Announcing the release of the 2nd full-length Recording by Sonic's Rendezvous Band: CITY SLANG;
which is to take place in Detroit MI, 7 Dec 1999.

9/98 news item re. Sonic's Rendezvous Band album

website for Sonic's Rendezvous Band
--where you can order their Premier album, Sweet Nothing

Fred's obituary in The Village Voice

Michael Lewis' Fred "Sonic" Smith page

additional info re. Sonic's Rendezvous Band

John Sinclair's homage to Fred -- at Addicted to Noise site; includes sound clips




Frederick
name of care
fast asleep
in a room somewhere
guardian angels/up above
shed your light
on the one I love.




Copyright © C. Ross 1996
---
back to phtp | back to babelogue